5 min read
C2 Tech and Spec Ops: Meet Jason Mosley

The PVM Team May 18, 2022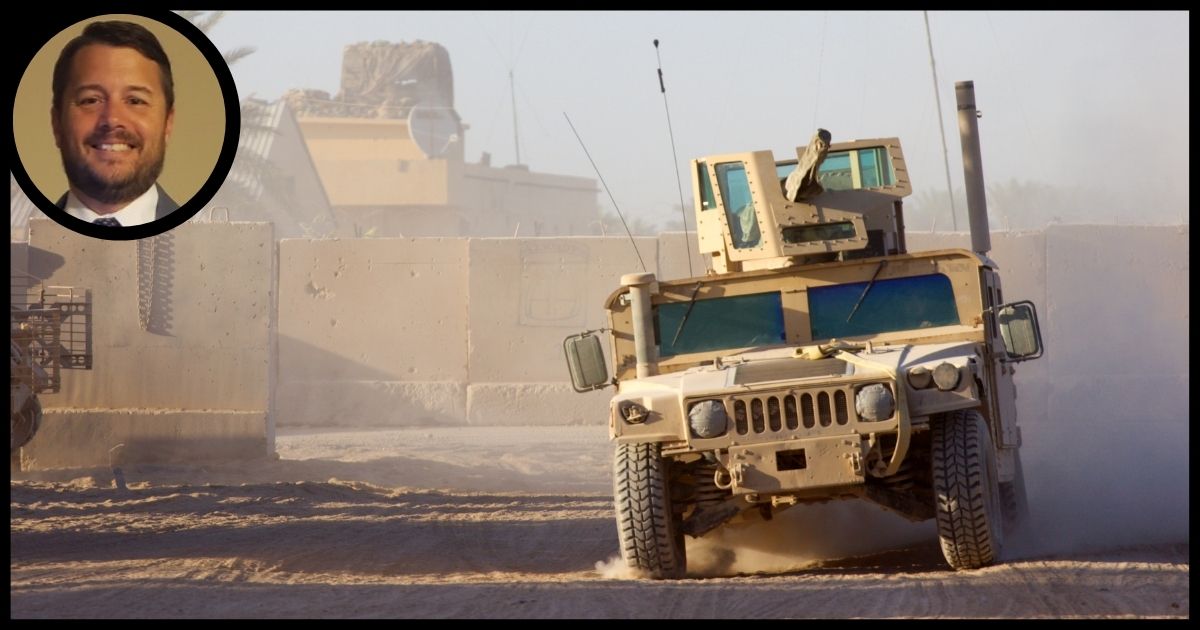 We sat down to catch up with one of our newest PVMers, Jason Mosley, to talk about some of the work he has done with the SOF community, his transition into his civilian career after his years of service, and what his thoughts are on defense and tech. Jason is the new Account Manager for one of our federal clients, and he is already proving indispensable to our team. He's located in our burgeoning location in Huntsville, AL. Learn more about Jason below.
How did you end up involved in the military?
Jason: I was always interested in the military, even after my first year of college. While I thought about joining the ROTC initially, I first decided that joining the Marine Corps Reserves was a better fit for me. There, I was in the Huntsville Field Artillery unit and spent some time at Parris Island. Eventually, after much time spent with friends who were also in ROTC, I discovered that was the route I wanted to take. So, I applied for a two-year scholarship and was accepted. While I thought about trying to become a lawyer at first, I eventually decided to branch infantry, which I loved. For the first five years of my time on active duty, I was deployed to Kosovo on a peacekeeping mission. This was my first deployment and was both eye opening and exceptionally rewarding. After 9/11, everything changed. We immediately started training for Iraq, and I was deployed from 2004-2005 to the Samarra area of operation. I feel fortunate that I was able to gain incredible experience from both my peacekeeping and combat deployments.
What came next for you?
Jason: I think, as a lot of the younger guys did, the war in Iraq and Afghanistan would be over soon. Even though I was studying counterinsurgency and terrorism, I still didn't have enough knowledge at that point in my life. When I got back from Iraq, I separated from the army and decided to try something new; I took a job with Dell Computers. And then one day, I saw on the news that the Golden Mosque had been blown up. That was in Samarra. That was our area. Our number one priority had been to protect the Golden Mosque. When I saw that it had been blown up, I realized the war wasn't even close to being over.
Over the next few months, things became more violent abroad and I realized my time in the military wasn't over yet. I still felt like I needed to do something. I needed to be part of the mission. So, I called a psychological operations unit that supported us in Samarra, which was based in Denver, Colorado.
I joined that unit and had a year and a half of training. I was supposed to go to Afghanistan in the middle of 2008, but during the surge in Iraq under Petraeus, they needed a psychological operations officer to deploy to Fallujah. I volunteered for the mission and found myself back in Iraq.
I was serving as the Psychological Operations Officer for the Al Anbar area and that was a very rewarding experience, earning a Bronze Star in the process. My team supported not only the Marine Corps Battalions but also special Operations units and even a few groups I can't mention. This diversity of support allowed us to do a lot of interesting operations over the course of nine months.
What was it like to come home?
Jason: When I got home, we moved to DC, and I was working at the Pentagon with a military intelligence unit. Just a few months in I got picked up as a reservist on orders working in counterterrorism. From 2009 to 2017, I worked for a CT unit at the Defense Intelligence Agency. This unit wrote intel products for senior policymakers working at federal agencies, DOD, and congressional committees such as SSCI and HASC. Additionally, we also supported a special operations unit, deploying analysts all over the world.
After that, Sam Sams actually (another new PVMer!) set me up with Accenture Federal Services as an operations subject matter expert. There, I supported the Naval Special Warfare units, explosive ordnance disposals, etc.
What is your biggest takeaway from these experiences?
Jason: My biggest takeaway is from my peacekeeping missions, combat, and counterterrorism. I feel like this could be applied to everything.
When we were in Iraq, 10% of the people that were in Iraq did not want us there. And they were doing everything they could to kick us out. They were the enemy.
On the flip side, there were 10% of people that wanted us there, completely. Why? They may have seen this as an opportunity to use the United States military as a way to benefit their lives and their families. They're there to capitalize off the military, whether it's providing a service or a building or something that could improve their lives.
But there is then the rest of the folks, the 80% that just want to live their lives. I think this same breakdown is true of almost everything. Right now, here in the U.S., it feels like we have 10% on either side, loudly fighting each other. But then I believe there is a majority of people who don't want to be bothered. They don't want to fight a culture war. They don't want to hurt anybody. What I've learned is that most people just want to be free to go about their lives.
I think that sometimes we're led to believe that everybody thinks the exact same way. And that we need to be in a fight with all of them. But really, it's not that black and white. It's very gray. And overall, you're just in a fight with a smaller, vocal minority.
What have been some of your biggest tech-related takeaways?
Jason: The first piece of new tech that we used in the field is called blue force tracking. The most important thing for a soldier is Command and Control or C2. Communication is vitally important in battle. Before, we would use radios to command and control the units. Then, when we got to Iraq, we used blue force tracking, which is a GPS-enabled capability that provides military commanders and troops with location information about hostile military forces. I was a rifle company executive officer in Iraq, so I used a blue force tracker. If I was leading a mission, the tracker would be located inside my Bradley Fighting Vehicle or Humvee. In urban areas, with lots of people and cars, this sort of technology was vitally important. I knew I could look at my blue force tracker and see every single one of my elements. Command and Control is now easy.
What innovative software solutions did you see in the military?
Jason: When I first ran the deployment program, we ran everything off PowerPoint and Excel. After a few years, we migrated to a database. At the time, this was huge. While initially, it was hard to adapt to, as we were so used to doing our work one way, this database made everything easier, especially when it came to deployment packets.
For instance, when before, we would have to dig through Excel and PowerPoint files to find information about one person, it may have been in different places, or just took a while to look up. With this database software, I could see their last deployment, their training certificates, their qualifications, etc. This database wasn't just useful for me, but for other departments, even as a recruiting tool. This software, while now the norm, was revolutionary at that time. And it freed up my time so I could concentrate more on the mission and move my programs forward.
What do you envision for the future of defense tech?
Jason: I would like to see the United States and its partners continue to strive to be one of the most technologically advanced militaries in the world. Technology makes an enormous difference in battle, and I think it's something that is vital to our success.
For specific kinds of tech, the next push is moving data and information into the cloud. It's something we've talked about a lot here at PVM.
For the intel community, that's a big challenge. How do people work remotely while working in the intel community? It's a tough question that pops up all the time. Our younger workforce grew up with a cell phone, with social media, with constant access to the Internet. When they work at an intel job or in a secure facility, they can't have their phone. They're quitting as they want the Internet access, they've enjoyed their entire lives. But for the older generation, going into the office may feel better, as it is what they're used to. But I would think that the 10-80-10 rule applies here too. Most people want a mix of remote and office work. How do we find that middle ground that fulfills the needs of access and security in the defense and intel space?
The world's changing. How does tech change within the intel community? How does tech change within the Department of Defense so that we stay safe? If we keep our information safe, we keep our people safe. But at the same time, we need to keep technologically advancing our society. Over and over. We just have to keep doing it.
PVM is partnered with Palantir and AWS to help bring cloud technology to government clients. Contact us to bring your organization into the future today!